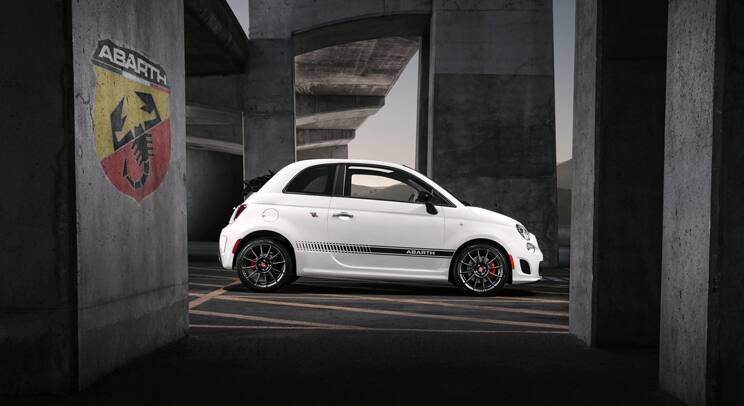 New 2015 FIAT 500 Abarth Cabrio at Brown's FIAT near Patchogue, NY
Jason Stoicenich, Head of FIAT Brand for North America, Chrysler Group LLC, recently stated "Accessible performance has always been a hallmark of the Abarth name." Meet the 2015 FIAT 500 Abarth Cabrio, an awesome and compact car that is no exception to that regulation and is here and equipped to meet your transportation needs with its two-door four-passenger convertible composition. The Abarth has been around for over sixty years as a highly-functioning competing sports car. New for 2015 is a slightly-changed instrument cluster. Bluetooth audio is also here, in addition to an extra USB port. The manufacturer's suggested retail price (MSRP) starts at $26,595.
Browse Our 500 Abarth Cabrio Inventory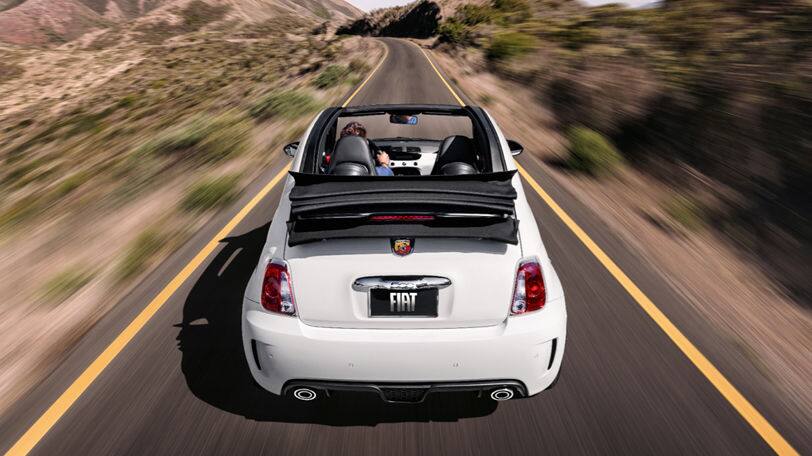 Under the 500 Abarth Cabrio's Hood
The 2015 Abarth Cabrio is ready for the track and has an available six-speed automatic transmission, which drivers are destined to like. The default transmission is a five-speed manual, excellent for a track. Regardless of whichever transmission you happen to purchase, you will not be unhappy with where this car will transport you. Sport mode is available. The front and rear's suspensions have been made for high-performance driving. The standard engine--a 1.4-liter MultiAir Turbo engine--makes the vehicle equipped for the track. The engine's turbocharger spins up to 230,000 revolutions per minute (rpm) to help the vehicle have a long life with maximum capability. What the engine's turbocharger is doing when spinning is converting the exhaust heat and pressure to a rotational force to work the compressor. The engine makes 160 horsepower and 183 ft-lb of torque available.
Schedule Service for Your FIAT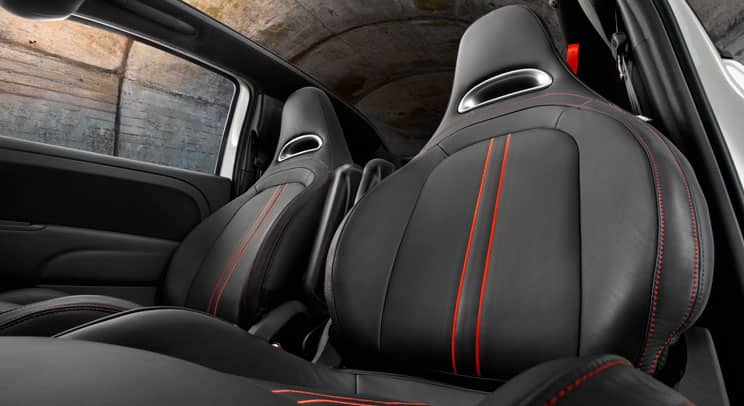 Design of FIAT 500 Abarth Cabrio
The Cabrio has an open-top design to make the vehicle perform at its highest quality. The car comfortably seats the four people it will hold. A leading-edge instrument panel with a 7-inch thin-film transistor (TFT) cluster unit will help you monitor trip information, fuel level, g-forces and speed. The TFT cluster unit gets a bolder appearance when you are using the above-mentioned Sport mode--neat, right? In addition, you can buy TomTom navigation to help you to your destination. TomTom navigation is a portable device with a touchscreen on top of the instrument panel. You will have a Beats by Dr. Dre system for one of the best audio experiences out there. This system has an eight-inch subwoofer and six premium speakers. The car has a bold and nicely-styled front fascia.
Find FIAT Parts
What is the ground clearance?
The Abarth Cabrio sits 4.6" off the ground.
Is there torque transfer control?
Yes, and torque transfer control is standard.
Will I have anti-lock brakes?
Yes! You will have anti-lock four-wheel disc performance brakes!
Do you offer FIAT rentals?
We do! Click here to read about our FIAT rentals!
How late is your service department open?
Until midnight Monday through Friday, until 4pm on Saturday and closed Sunday.
Conclusions
The Abarth Cabrio has over 35 standard and passive safety and security features. You will have seven standard airbags, to include advanced multi-stage front ones and a driver's inflatable knee-bolster one, to ensure a great amount of safety were an accident to happen. You will have an engine immobilizer to assist you in a crash, too. People will be informed before the car takes off if they do not have their seatbelts on. Hill Start Assist will help the driver when starting to climb up hills. You will have a three-mode electronic stability control (ESC) unit to create better braking performance on slippery roads or in crises. The ESC's three available modes are "ESC On," "ESC Partial Off," and "ESC Full Off." Come check out a 2015 FIAT 500 Abarth Cabrio to see how it might be for you!
Inquire About FIAT Financing