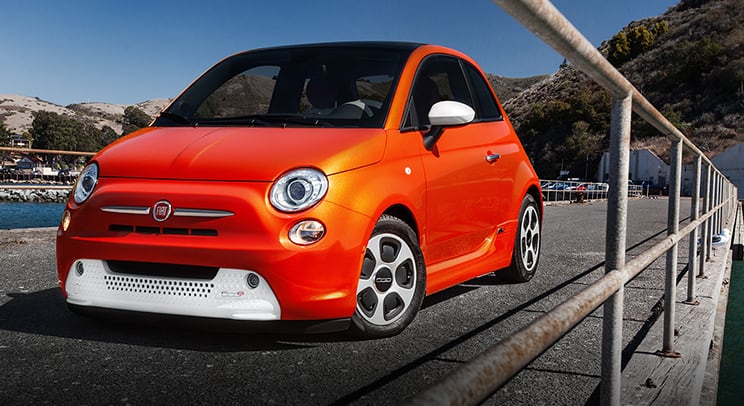 New 2015 FIAT 500e. Only available for sale in California.
The FIAT 500e is the perfect alternative for customers who want to stay true to the character, fun and appeal of a 500 model while remaining environmentally conscious. An especially great choice for those living and commuting around the city, the 500e performs with irresistible charm that has long been associated with the iconic model. In a day where most electric vehicles are basically cardboard boxes on wheels, the engineers at FIAT have made sure that their electric car does not lack style and sophistication. Competition includes the Nissan Leaf and Ford Focus Electric, though their performance leaves a lot to be desired for and they lack style and individuality.

For 2015, the 500e model has received two fantastic new paint colors as well as a center console that has been redesigned to be both intuitive and stylish.
The Efficiency of an Electric Car
What makes the 500e different is its source of power, which comes from an 83-kilowatt electric motor. This provides 147 lb-ft of torque and 111 horsepower. Utilizing a single-speed automatic transmission, the powertrain is linked to a front-wheel drive system. There is a 24 kilowatt-hour lithium-ion battery pack that provides electricity.

The fuel economy is incredible, and comes in at an EPA-estimated 87 miles per gallon. Drivers who commute in and around the city will find that they can get up to a 100 mile driving range, which is certainly impressive. The 500e can easily recharge within an estimated four hours, when using a 240-volt outlet. Drivers can also recharge their vehicle using a 120-volt household outlet.

Adding to the enjoyment of the drive are great safety and security features, which will add an extra layer of protection. There are a multitude of airbags, like driver knee airbag, side curtain airbags, and front seat side airbags. In addition, there are active front head restraints, and antilock disc brakes. Adding more assistance are both traction and stability control. Finally, every 500e comes standard with rear parking sensors. These are of vital importance with electric vehicles, as they are so quiet that there needs to be warning sounds to alert pedestrians.
The Irresistible Italian Style of a FIAT
The FIAT 500e comes to 2015 as a two-door hatchback, and there is one incredible trim level that provides customers with a bountiful array of amenities. There are many visible similarities to the main 500 lineup, though there are certain design techniques and flourishes that are unique to the 500e. For example, there are specialty made rear and front body panels, and a rear spoiler. In addition, there are smooth underbody components and wider side sills. The vehicle has been designed to take advantage of aerodynamics, which aids to improved efficiency and driving range. 

The single trim level is fully equipped with a variety of interior features to improve entertainment and the overall ride. On the exterior, there are heated side mirrors, while the interior boasts leatherette (premium vinyl) upholstery, automatic climate control, and an auto-dimming rearview mirror. Optimizing space are 50/50 split-folding rear seats, and  manually adjustable heated front seats with driver-side height adjustment. Drivers will also love the leather-wrapped tilt-adjustable steering wheel.

Electronics are highly refined, and include a removable handheld TomTom navigation system, a six-speaker Alpine audio system, and Bluetooth phone connectivity. For audio entertainment there is an auxiliary audio jack, USB/iPod integration, 
The Perfect Combination of Style and Efficiency
The 500e is the perfect option for customers who want the efficiency of an electric vehicle, yet want to maintain their individuality and style. Boasting the classic FIAT appeal, as well as the iconic design cues that make the 500 lineup a standout, the 500e brings forth unique features and great technology.