2016 FIAT 500e
Inventory
Get Financing
Service
Find Parts
Contact Us
New 2016 FIAT 500e at Brown's FIAT for Patchogue, NY
The FIAT 500e is doing extremely well and have defied the odds of many.  The 500 has a great attitude, many colors and features embracing an artsy attitude a great price and impressive fuel efficiency.  The car has character and stands as an alternative power source vehicle amongst the FIAT lineup.  The 500e enters the brand into the next chapter of automobile design and into the environmentally responsible frame of mind.  The idea of adding cleverness, colors and innovation such as the electric powertrain all make for a great car.  The 500e is able to stand out from other models in the segment by a unique looking bumper as well as door sill changes.  For those that really want to make a statement with their new electronic vehicle there is an exclusive orange color that really helps distinguish drivers.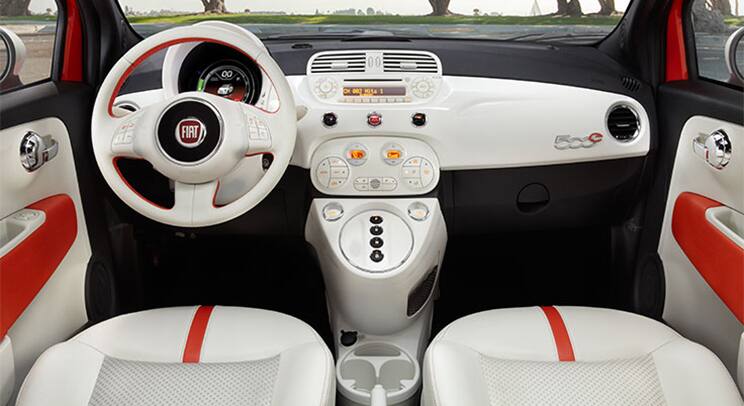 Under the 500e's Hood
The handling of the 500e is tight allowing it to be able to drive around and handle with a great deal of ease.  The brakes are very strong and the manual transmissions shifts with ease.  You can also get an automatic transmission that is equally enjoyable.  This full electric car runs on a battery which is liquid and continuously heated and cooled and also can be charged in four hours to be ready to drive again.  The engine at full capacity produces a cool 111 horsepower and 147 lb.-ft. of torque.  The charger requires 220 volts and the connecter is a 6.6 kilowatt on board module.  The 108 miles the vehicle gets per mile on the highway really is a cost saving benefit and helps make the case for electric vehicles.  The miles per gallon equivalent (MPGe) translates the electrical power into a comparable number to the amount of energy contained in a single gallon of gasoline.
Design of FIAT 500e
The interior of the 500e is both classic and progressive at the same time. There is a very different looking transistor gauge cluster that displays vehicle pictures in full color showing the operator different on board systems and any problems get routed right to the screen.  The electronic shifter is also very unique allowing gear changes at the push of a button. The center console is home to a media center as well as cup holders. There is a new Android based infotainment console located mid dashboard which displays car information as well as an app environment allowing for operator customization with this system digital music can be streamed to the vehicle via wireless technology with the vehicle also offering full charging capabilities with USN ports.  Music enthusiasts also have a CD player and an auxiliary input jack.  The 500e takes bits of others in the FIAT lineup and combines them with all this vehicle has to offer.  It takes its handling from the sporty Abarth, smooth acceleration of any electric car and the fuel efficiency of any real-world electric vehicle.  Getting back to the vehicle's handling and specifically cornering the vehicle operates pretty much entirely in quiet.  It is a great small town run-around car.  At some point in the near future the FIAT 500e may see a worldwide release allowing it to really step more into the ring and challenge other electric cars.
Where is Brown's FIAT located?
We are located at 483 Route 112 Patchogue, NY 11772 Click for Directions
Can you help me finance my 2016 FIAT 500e?
Yes we would love to help you find financing! Please take a look at our Finance Center to see what we have to offer. Click for Finance Department
Can I have my vehicle serviced at your dealership?
Yes we are a full service mopar affiliated dealer able to take care of all of your car's needs. Click to Schedule Service
Conclusions
The 2016 FIAT 500e has been rated at four stars by the NHTSA and the IIHS gives it its top overall score of "good."  The Fiat 500e comes with a great deal of safety equipment including: dual front, side and curtain airbags, a specialized airbag for the operator's knees, anti-lock brakes, traction and stability control and a very useful hill hold feature that is great no matter where the vehicle is driving.  
Read Our Other Reviews
2016 FIAT 500x
2016 FIAT 500
2016 FIAT 500c